Cosmo Securities Co., Ltd
Market wether report
A "market wetaer report" is the stock information analysis tool currently exhibited in Cosmo Securities's HP.
This tool expects the future Nikkei stock average and the price of an individual stock by two or more technical analyses, and displays a result in weather report form.
A "market forecast" offers the judgment material of an investment as if you check the weather report on television in the morning.
* A "market wether report" is Cosmo Securities's registered trademark.
<Features>

●"The weather of market"
It predict ten days after value of the Nikkei stock average and the price movement of an individual stock. and its result is indicated as in the weather form.
●Neuro's News
About an individual stock, it reports the price movement with technical analysis.
●Today's sunny/rainy stock
It predicts future stock price and an displays in ranking form. Moreover, the investment rating material from performance sides, such as a sales growth rate and ROE, can also be obtained.
Market wether report(Cosmo Securities Co., Ltd)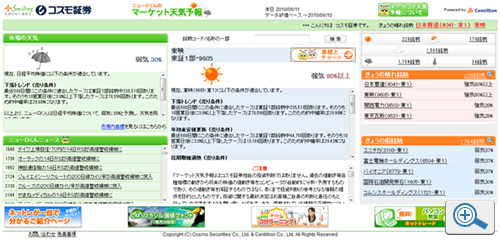 Market weather report Top