INVAST Securities Co., Ltd.
Rakuraku thichnical(Easyway Technical analysis)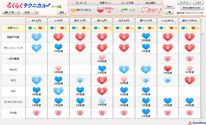 A "Rakuraku technical beta " is the technical analytical tool offered in the "Click 365" which is one of the foreign-exchange-trading services of invast security. It makes technical analysis easier so that the system visually shows trend prediction and the techinical sign.
http://www.invast.jp/fx/information/2010/12.html#03-702
<Features>

"Rakuraku technical" has two analytical tools, a "dealing sign" and "trend prediction."
Moreover, it analyzes the two result comprehensively.It shows as" a comprehensive tendency".
●dealing sign panel
You can check market price situation in bird's-eye view by displaying the analysis result of 12 technical indexes in panel form, An analysis result is expressed by Hart Mark corresponding to the intensity of the signal, and shows dealing timing to an investor by visual animation.
●trend prediction chart
It predict future chart shape analysing correlation of present chart shape and past chart shape.
You can immediately check the shape prection chart up to the third approximation and a motion of the past chart which was referred for a coincidence rate and prediction.
You can intutively graspe the situation of a market it shows motion of a chart visually.
●comprehensive tendency summary
It indicates comprehensive tendency as ranking analyzing each tendency of a dealing sign panel and a trend prediction chart.
It shows ranking with the drum of a slot which always rotate in the upper part of the screen. Though it is an investment support tool, we challenged the display method with sense of humor. You can also display its ranking. as a list .